Sorrento, Italy
Yoga, Music, Medicine, Transformation
August 11 – 18, 2018
New dates for 2018! the circle is unbroken…

With Special Guest:
Omer will be bringing to this yoga retreat 'Pulsing' (a unique musical experience inviting us to experience the raw force of music) and an evening of ancient medicine circle.  In addition, Molly and Omer will be working together to create evening experiences and practices incorporating rhythm, expression and moving meditation.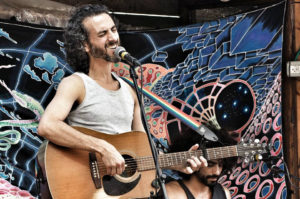 Image waking every morning to an Italian espresso (or tea) and strolling through the enchanted lemon groves of Sorrento. Make your way to the yoga shala for a morning meditation and yoga asana practice as the sunlight begins to illuminate the never-ending palate of blues in the sea below. Across the gulf of Naples, Mount Vesuvius sits quietly holding the power of transformation.
This week on the magical Amalfi coast will be an exploration of practice, ritual, finding your inner rhythms and setting your voice and expression free. A unique blend of yoga, mediation, plant medicine and music, we will guide you, hold you and offer beautiful new perspectives.
It may sound like a dream (which it is!), but it is also an opportunity for deep transformation, self exploration and above and beyond all, celebration!
In your time off…
Meander through the streets of Sorrento, hop on a boat tour of Capri to visit the famous Blue Grotto, enjoy the drive over the Sorrentine peninsula to arrive at Positano, Ravello and Amalfi.
Close each day around the dinner table with your new friends, sipping Italian wine, enjoying a real Caprese salad and perhaps even a sip of homemade Limoncello. 
Join us for a week in heaven.  We will be based in a villa just outside the center of Sorrento built in 1870 and owned originally by Italian admiral.  Each room in the villa has its own character and the furniture and adornments provide authentic southern Italian character and charm.  Our villa sits amongst the biggest historical lemon grove in the south of Italy, and the grove is home to a resident horse, cows and chickens.  In 2015, the villa was the setting for a Chinese romantic comedy, "All You Need is Love".
We will be nourished from locally grown organic produce harvested from the farmer next door, and there will be plenty of time amidst our explorations to relax in the beautiful gardens in front of the villa.  For those looking for a unique adventure, wander down through the Roman cave for private access to the sea.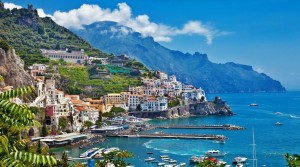 Your trip will include:
8 days, 7 nights accommodation in Sorrento
Three vegetarian meals per day
Yoga asana, pranayama, meditation practice with Molly
Rhythms, music, expression, mantra with Omer
Included in the program will be one or two excursions in the area
Ancient medicine circle with Omer
Transportation to and from Sorrento train station on arrival and departure days
Price:  $1700.00 in shared occupancy
For more information or to register, email
mollycofman@gmail.com
Getting There:
The closest airport to Sorrento is Naples International Airport.  From there, participants can take a shuttle directly to Sorrento train station for group pick up.  There are many direct flights into Rome Fiumicino International Airport as well, but from here it is approximately two hours by train to Sorrento.