Root Into Wisdom
Epidavros, Greece
September 23 – 30, 2017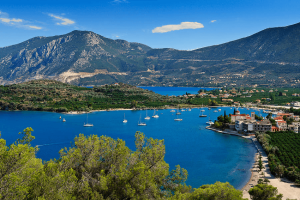 "At Epidaurus, in the stillness, in the great peace that came over me, I heard the heart of the world beat. I know what the cure is: it is to give up, to relinquish, to surrender, so that our little hearts may beat in unison with the great heart of the world."        ~ Henry Miller
Come practice yoga in the land of gods and goddesses, myths and legends!  Take your yoga to a new level while immersing yourself in the adventure of a new culture, stunning landscape and the company of wonderful people.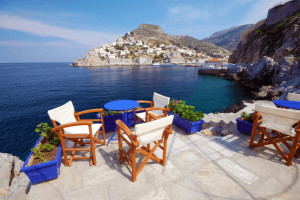 "Root into Wisdom" is a more intensive yoga holiday, set in the extraordinary village of Epidavros, Greece. 'Epidavros' means center of the aura, and is a powerful energetic location. Epidavros has a deep and rich history in healing and is the perfect place to go deeper into your practice while immersing yourself in the life of this magical Greek fishing village. Wake everyday to yoga overlooking the sea and the dormant volcano of Methana, refresh with a dip or snorkel after practice and then sip on freshly squeezed orange juice made from local oranges (some of the best in Greece!).
"The road to Epidaurus is like the road to creation. One stops searching. One grows silent, stilled by the hush of mysterious beginnings…. I never knew the meaning of peace until I arrived at Epidaurus."        ~Henry Miller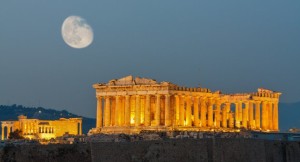 This yoga holiday is focused on enhancing the knowledge of yoga and the traditions of Classical Hatha Yoga. We will practice twice daily with the occasional morning workshop. During the day, participants are free to lie on the beach, explore ancient ruins, kayak, bike, paraglide or simply wander through the village taking in traditional Greek sites and sounds. We will take one full day excursion to a Greek Island for a day of exploration…(*other excursions available at additional cost).
Pricing:  $1100.00 (shared occupancy)